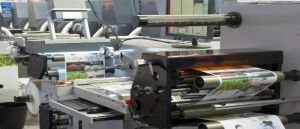 The right printing company can make or break the quality of your print marketing materials. So it only makes sense to find the best one out there. Here are handy tips on how you can pull that off:
Quality is the priority. Your print marketing materials can boost brand recognition for your business, if done right. But if the quality of your marketing materials leave much to be desired—poor paper quality, colors don't translate well to print, the elements are all mixed and bungled up—then that might doom your business instead. After all, customers and clients along with investors are going to think twice about engaging your services if you can't even manage to print out your marketing materials in a better way.
Always shop around for prices, says iNSPIRED MAG. You might think you've found the perfect printers in Orange County but unless they offer the services you need at prices you can afford, then you're going to have to keep looking until you find a company that meets your needs when it comes to quality and pocket-friendly concerns both.
Drop by their office. To get a feel for the business, you can certainly try to swing by their physical office. That could net you a look at how the business works. If you spot any behaviors that seem off or if you see the business surviving on nothing more than an old pile of machines to get the job done, you might want to look elsewhere. After all, better technologies exist to ensure the printing process goes off smooth and easy these days. If the company is still stuck somewhere in the 19th or 20th century with the slew of printing tools and machines they have, then it's infinitely better for you if you to opt for a company that's already well updated with current printing practices and technologies.
Find a printing company that offers ready assistance. It's great to work with companies who offer their help to you every step of the way. if you aren't really all too familiar with the steps or what kind of font size works best for what project or file format, a great printing company will be all too willing to lend a helping hand, ensuring that you navigate the entire process with as knowledge and help you need.
So don't panic. If this is your first time looking for a wonderful printing company, then just follow these tips, learn more along the way, and you'll do just fine.