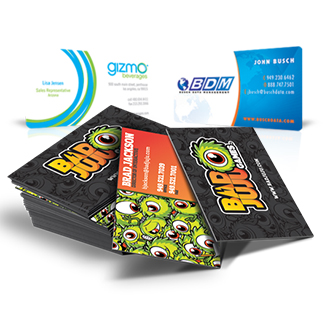 High-Quality Business Card Printing
Your business card is often the first impression your company makes on someone. When you hand over your card, you want to convey a professional, polished image. You want your card to say, "This is a company worth using." You need cards produced on high-quality material with exceptional ink.
What You Get With Our Business Card Printing Services
When you allow Avanti to produce your business cards, you can make that impactful first impression you desire. We specialize in offering printing solutions to companies in the Irvine, Los Angeles and Long Beach areas. Our business cards carry designs to catch people's attention. You can add the special flair you want to set yourself apart from all the other business cards crammed into someone's wallet.
Our professional graphic designers have big imaginations. They can help design a logo for your company to put on your card, or they can clean up the artwork you're currently using on your marketing materials. We offer a variety of special materials your card can be printed on, too, such as:
-Silk Laminated Spot UV
-Soft Touch Suede Laminated with Raised Spot UV
-Silk Laminated with Foil (Gold, Silver, Black, Red and Blue Foils)
-Custom PMS Color Business Cards
-Custom Die Cut Business Cards
-Super Thick 32pt Painted Edge Business Cards
-And Much More!
Stop by our office in Irvine to see thousands of examples of our business cards. Feel free to peruse them and see what strikes your interest. When you feel inspired, talk to us about how we can make the design yours, speaking directly to your company and what it's about.
Fast Turnarounds
Did we mention we can do same-day turnarounds on business cards? You can order your cards in the morning and come pick them up that night. In fact, if your business is located in Orange County, we'll even deliver them to you at no charge. We know you and your employees are busy, and that's one way we can help save you time.
Customized Premium Business Cards Set You Apart
When you hand out plastic business cards, no one will forget your company. It sounds like a small detail, but those little aspects help tell the story of your business. Prospective customers know if you're willing to invest time and money in the minor details, such as top-notch business cards, you can certainly handle the bigger picture.
Great business cards help brand your company. They speak to your desire to stand out and achieve. Buying distinctive business cards for your business also ensures you won't get mixed up with competitors who offer the same services. After all, no one will mistake your dynamic red-and-green card with the dull black-type-on-white-background cards handed out by your competitors.
Get a quote by filling out our online form or giving us a call at (949) 387-0787.