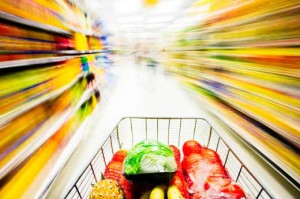 When many people think of poster printing, they picture outdoor displays.  Posters are often plastered all over town to advertise a big event like a sale or a concert.  However, if you are looking for an inexpensive way to create in-store signage, poster printing may be just the answer you seek. Since posters are bright, eye-catching, and inexpensive to print, they make an ideal format to advertise sales, discuss terms, and share information with your customers.  Their lightweight format also makes them perfect for indoor/outdoor displays and traveling displays for meetings and tradeshows. If you are thinking of using poster printing for your displays, here are a few things to consider.
Focus on the image
Poster printing is a visual medium, and therefore, the images that you select should be of the highest importance.  Look for images that get your message across, are bright and eye-catching, and are of a high enough resolution that your printer can blow them up to a larger scale. For large-scale printing, your printer may request a digital format that allows for ease of enlarging.  If you do not have the technology to get sharp, clear, high-resolution prints, you may want to consider hiring a photographer to take the images needed for your posters.
Keep it simple
In most cases, posters aren't designed to convey huge amounts of information.  Rather, they are designed to capture the attention of the audience and get a key point across.  This means using short, to-the-point headlines, bright images, and direct text.  While there are a few exceptions, most poster printing should be designed to be read from a distance – whether across a salesroom floor, a parking lot, or a tradeshow arena.
Include a call to action
Poster printing is an effective medium because it tells the reader directly what they should do.  It doesn't matter if your message is "buy now" or "call today" – whatever it is, it should be listed and listed clearly.  Don't forget to include something that identifies your company, or list contact information if appropriate.
Choose colors that stand out
While all printing projects need to be done with colors that look great together, poster printing should be designed to be read at a glance – which means choosing colors that stand out together.  Black on yellow or white on dark colors can be read from a distance and lend themselves well to poster printing.  Of course, by the same token, you need to choose font styles and sizes that are easy to read as well.
How will they be displayed?
Another aspect of poster printing that you will want to discuss with your printer is how you will be displaying your posters once they are printed.  Do you need a stand to use, are they going to be hung, or will they go into frames?  The ultimate display destination will have an impact on the materials used during the printing process and should have a consideration during the design process. Your printer can help you come up with the poster format that works best for your venue.
If marketing posters are eye-catching and creative, chances are they will help boost your business image among potential and current customers. Marketing
posters
are typically hung in places where they will be seen by the most amount of people. With this in mind, if you create a design for your marketing posters that will not just advertise your business but will stay with your customers, then you're already ahead. A crucial objective for a marketing poster is to create one that is so endearing that customers will hang one in their personal or business space as a collectible. Here are some tips for achieving this goal.
Commemorate Important Events
Celebrate a significant business event or award with a marketing poster that doubles as a collectible for the occasion and also advertises your business. You can also commemorate important events related to the community surrounding your business, such as a local anniversary or landmark. As long as you include your company's information on the marketing poster, this keepsake will advertise your business in a meaningful way.
Use Celebrities
If a particular celebrity could tie in with your marketing poster theme, then make that person the central figure of your marketing poster. You can use a well-liked local celebrity, a movie star or even an author.  Just make sure to get the rights to reproduce a celebrity's image or to use an existing photograph before printing your marketing posters.
Sponsor a Local Artist
Giving back to your community is always important, so why not choose a local artist to create a special image in her chosen art form to use as your next marketing poster? This way, the artist and your business gets good publicity as people collect your piece of commissioned art.
Design With Art in Mind
If you have a talented designer on staff or regularly work with one, let that person create a unique marketing poster that is designed to appeal aesthetically to viewers. Complementary colors and patterns that tie in with an overall theme, along with an eye-pleasing font, are all necessary components of a successful design. If you design your next marketing poster around one or several of these concepts, you'll likely enjoy seeing your hard work disappear into the hands of current and potential customers who respond to the artistic design of your marketing poster, making it a coveted collectible instead of just another marketing tool.
Full color
posters
are an exciting way to promote your business or business event. With the size of your poster and the prominence of the highly-visible places you present them, you have a wide range of options to deliver your intended message. Posters open up great potential with your marketing message with the use of color, fonts, and design.  What can posters say about your business and why would you want to create a poster printing project?
POSTER IDEAS
Advertise Business Events
Posters are a great way to advertise events that you sponsor or present at your business.   Particularly if you are a restaurant or bar, a poster in your own window and hung around the neighborhood can advertise the next great band playing live at your location. Or you may be offering a free seminar on buying a first home at your realty office. Use a poster to get that message to people to come to your business location.
Create a Calendar
A poster is a great way to keep your business name and message up year round. Create a single page calendar poster with your name and logo prominently displayed at the top. Be sure to highlight special days during the year, such as Valentine's Day for floral shops or even special reminders of Breast Cancer Awareness Month.
Business Introduction
If you are opening a new business, what better way to advertise your Grand Opening than with a bright, bold poster? Create a poster that introduces your business, and be sure to give an address and days of the special opening sales.
Poster in a Press Kit
Some businesses use press kits as part of their promotional efforts. In a press kit, why not include a foldout poster along with your other promotional materials? Sure, this works great for bands, movie makers, and DJs, but why not for a restaurant or bakery? A small poster of a delectable cake or pie can be a great way to whet the appetites of your readers.
TIPS FOR POSTER DESIGN
When you create your poster, keep these tips in mind:
Use Big Text

– Your poster should be able to be read from a distance. Designing your poster with big text will make it easy for readers to get your message.
Reduce Clutter

– Use text and graphics, but use them sparingly. You don't want to clutter your poster with too much information that makes it difficult to read. Keep graphics to just one or two, and use text for headlines and specifics on an event.
Use Color Effectively

– Color can add a great design element, but don't go overboard. It is easy for beginning poster designers to add too many colors in the fonts and graphics that distract from the message.
Keep these poster ideas and design tips in mind for your next poster printing. Using posters can give your business great credibility and can look stunning when designed properly.