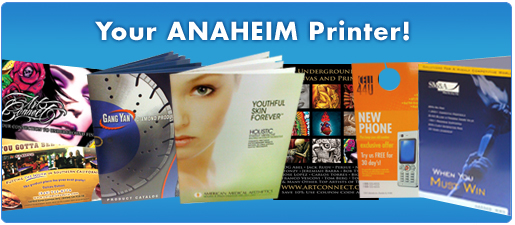 Printing Services in Anaheim
Does your business need marketing materials, wall décor or trade show displays? Avanti Printing can assist you with all those needs and more. Our printshop near Anaheim specializes in performing customized jobs for companies big and small, as well as for individuals. We can make large prints, business cards, postcards and more. We can even handle your direct mail sending services.
As a busy professional, we know you need your jobs done quickly. When you order brochures, you want them as soon as possible, not weeks from now like you get with other commercial printing companies in Anaheim. We recognize the desire for fast turnarounds, which is why we offer same-day printing for some of our products. When you submit an order, we start working on it immediately. We also offer top-notch customer service to ensure your order doesn't just get there fast, but it also reflects everything you want in that item.
Commercial Printing Facility Near Anaheim
Want to see what we've done for other customers just like you? Stop by our office. We keep examples from past client projects so you can look them over and see what appeals to you. You can draw inspiration for your designs.
When you're ready to order, you can upload your own artwork to use with your materials, or consult with our team of professional graphic artists. They can design any type of advertising tools you want — they can even make a new logo for your business, which you can use across media to help brand your business.
High Quality Products
Good marketing materials can take a business to another level. By letting other people know about your products and skills, you can make connections and find new clients. A direct mail campaign or trade show booth may be options you've never considered before, and we can help you make them into a reality.
Are you ready to make a commitment to your company's future? Let us help deliver your message. Get in touch today for a free quote on your next project.